3MER Supporting Good Practice in Managing the Employment Relationship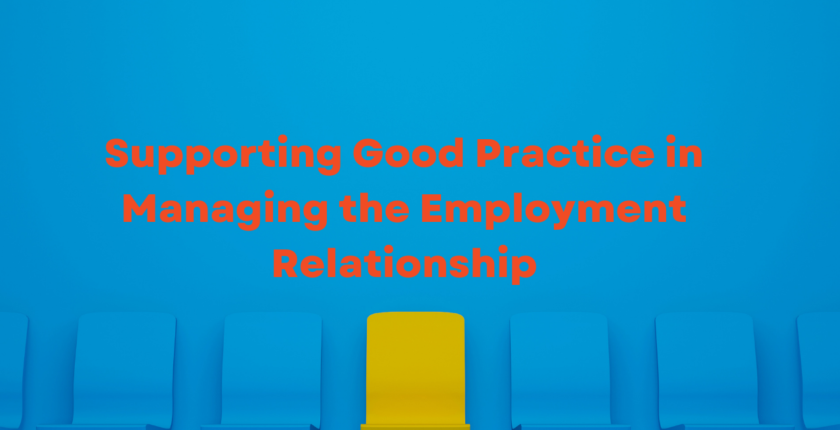 Students enrolled in the third level of the Chartered Institute of Personnel and Development will be introduced to employment law, including elements that directly impact employment relationships. In particular, learners will understand internal and external factors affecting the termination of employment contracts and individual rights.
A healthy relationship between employees and employers is fundamental to an organisation's growth. But, unfortunately, employers and employees often have different interests. Generally, employers seek to maximise profits, while employees seek higher earnings and other employment benefits, such as flexible working hours and bonuses.
In this unit, learners will explore organisations characterised by positive attitudes toward employees, are perceived as healthy and prosperous, and learn about the best practices that can foster fruitful employee-employer relationships. For example, when workplace relationships are built on effective communication channels, issues raised by employees can be resolved quickly and efficiently.
Factors affecting employee relations
The previous section showed that employee relations are affected by internal and external relationships. The organisation's management can address internal issues affecting employee relations, but external ones are beyond control.
The internal factors that affect employee relations
Employment Contracts: A contract between an employer and an employee specifies details such as the duration of the contract and the employee's employment rights and implied terms that include unwritten rules of conduct such as not stealing.
Statutory terms: Statutory terms are written and reflect those rules imposed by law, whose violation could lead to legal action.
Employee motivation: It consists of motivating employees, such as performance appraisals. It is possible that appraisals can motivate employees to achieve individual and organisational goals, resulting in improved performance and productivity.
The external factors affecting employee relationships
Social impacts: Organisations must recognise that addressing the needs of their employees motivates them to achieve job satisfaction and become more productive when pursuing organisational objectives. Employees are also affected by the balance between work and family; organisations should enable them through policies such as flexible work hours, holidays working from home, and paternity and maternity leaves. Competition, technology, the legal system, and the political environment are other external influences.
Employment status
An organisation offers various types of employment, such as temporary and fixed-term employment or long-term employment. Therefore, HR professionals must understand employee status terms to adequately explain their employees' status and prevent miscommunications and conflicts from arising.
Additionally, employees should be aware of their legal rights in addition to Human Resource professionals. In this way, the contract can be better understood, and the relationship between the two organisations can be strengthened. Employees who comprehend their employment terms effectively may also be more productive, as they understand what their employers expect of them, thus improving organisational performance.
Employee rights
Students are taught about employee rights and employers' responsibilities to ensure they are not violated throughout the unit. In most countries, organisations must comply with employee rights by enacting laws to oversee that enforcement.
One of the notable pieces of legislation enacted to guarantee employee rights is a working hour cap that limits the number of hours people can work in a week, including overtime. Additionally, some legislation emphasises that an employee has the right to go on sick leave, annual leave, paternity leave, and maternity leave in times of need. The importance of these legislations and guidelines cannot be overstated since they teach employers how to best relate with their employees, thus fostering good employee relations.
In addition to employee rights, employee guidelines emphasise the importance of fair and equal treatment for all employees regardless of their organisations. For example, countries have developed laws that limit the amount of pay an employee should receive and emphasise that equal pay should be afforded regardless of an individual's background. Learners must understand how the rights of employers and employees are related and balanced to achieve equality of treatment.
Harassment, discrimination, and victimisation
It is essential for learners enrolled in this course to appreciate the importance of equal treatment among employees regardless of their race, age, religion, or ethnicity. Learners must also be familiar with the legal laws governing harassment, victimisation, and discrimination within organisational structures. It is vital to know discrimination, harassment, and victimisation laws to enhance employee relations and spur growth. When discrimination, harassment, and victimisation are ignored, employee-employer relations are strained, and organisational growth is slowed.
Psychological contract
In this unit, we examine the psychological contract, which deals with how employees and employers perceive their obligations to one another. In addition to the psychological contract, an intangible agreement between employees and employers also exists that details informal expectations, informal commitments, and understandings that form the basis of their relationship.
Students need to understand the psychological contract concept since it shapes their behaviour in the workplace. However, it is essential to distinguish between psychological and legal contracts. It's important to remember that human resource management professionals are leading the way in demystifying the psychological contract so that both parties understand and trust each other.
Terminating employment contracts
Because employees may eventually leave an organisation, learners must know that it is essential for human resource management staff to observe legal laws about employee termination or dismissal. In addition, human resource professionals who want to maintain positive relationships with their employees after they retire should schedule exit interviews.
Learning objectives
By the end of this unit, learners should:
Be aware of all factors that impact employee relations on the inside as well as the outside
Have a good understanding of various employment statuses
Understand the laws that govern employee relations in the workplace
Be familiar with the psychological contract concept and its practical application
Understand the best practices that support the peaceful termination of contracts
Conclusion
Learners interested in a career in human resource management will gain knowledge and skills regarding effective workplace relationships in this unit. The learners of this unit will gain a thorough understanding of workplace relationships, including how to maintain a healthy employee relationship. Furthermore, this unit provides learners with a better understanding of the legislations that guide organisations regarding employee relations.
On-Time Delivery
Plagiarism-Free Assignments
High-Quality Assignments
Pocket-Friendly Services
Free Revisions
24/7 Customer Care Support
GPTZero Report