5OS03 Learning and Development Essentials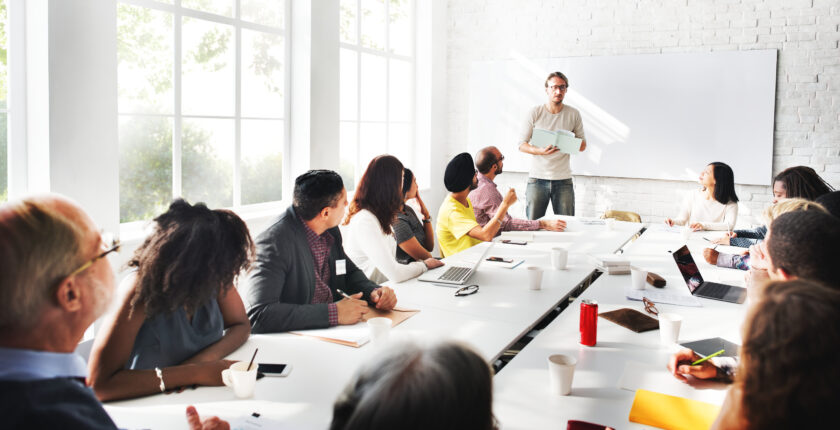 This lesson covers the fundamentals of learning and development for those in people management roles, including how to see the relationships throughout the organisation and how learning and development promote performance. In addition, it delves into the stages of learning and development design, development, and facilitation, as well as alternate modes of learning, to improve learner engagement and business support.
What you will learn
You will examine important topics and agendas that now influence the delivery of learning and development in organisations and the various ways in which it integrates with other parts of the company to support the attainment of business goals and objectives. You'll compare a variety of learning and development strategies and the various ways in which they can be combined to create engaging learning solutions that achieve learning objectives. You'll also talk about group learning and facilitation techniques and the value of varied contexts for learner engagement. You'll also weigh the advantages and disadvantages of informal and self-directed learning.
This Unit Is Suitable for Persons Who
The unit focuses primarily on L&D principles; thus, anyone with a professional or academic HR background or experience developing L&D activities will benefit from the course and unit. Individuals who are new to HR responsibilities and ideas might also benefit from the training. The unit will provide vital knowledge to those presently working in HR and L&D and those interested in pursuing a career in the field.
Learning Outcomes
Objective 1
A student must demonstrate a thorough awareness of the relationship between learning and development and the success of various parts of an organisation. For example, students must:
Provide sufficient explanations to clarify the current key topics and objectives that affect L&D efforts in organisations. For example, explaining data and metrics integration, self-direction and customisation, informal learning methods, state and political learning strategies, globalisation notions, and how they relate to contemporary, more performance-oriented topics are all part of achieving this goal.
Examine the numerous ways in which L&D connects with various divisions within an organisation and aligns them with strategic goals. As a result, students must make solid comparisons between other techniques of communicating with various elements of organisations and assisting in the attainment of objectives. Furthermore, comparisons will be established by clarifying the roles of various activities such as business partnerships and consultations and their relationships with other departments and organisational functions.
Techniques for L&D evaluations must be identified and what they include at the person, group, and organisational levels. Data, metrics, skill, group, financial, environmental assessments, consultations, and feedback reviews are among the strategies used.
Objective 2
Entrants must also be familiar with L&D solutions and designs. The portrayal of this understanding, on the other hand, will be assessed using the following schema:
Clear descriptions of learning strategies and how they might be used to create L&D activities that achieve learning objectives. As a result, an applicant will discuss in-person, virtual, and informal learning techniques and integration principles and indicators of a successful blend.
Learners must evaluate approaches for strengthening learning transfer by investigating solutions, essential concepts, and ideas.
Assume a student discusses the necessity of assessments during the L&D design process; in this scenario, they will have demonstrated their understanding of the value of evaluation methodologies and planned outcomes during programme design.
Objective 3
Students must thoroughly understand the aim and value of multi-contextual L&D facilitation. Then, when you've grasped the meaning of this part, you'll be able to:
Learners appropriately investigate collective learning facilitation approaches that increase individual stimulation. For example, entrants should be able to describe the facilitation process and measures in both in-person and virtual learning to demystify the various forms, models, and goals of facilitation.
Participants evaluate the differences between virtual and in-person facilitation from the perspectives of both the learner and the facilitator. The skills and competencies required in each setting and the surrounding elements determine the variances.
Objective 4
The CIPD foundation mandates that all learners comprehend the critical qualities of alternative learning approaches that are advantageous at the individual and organisational levels based on concepts and principles covered in the course. In addition, the CIPD employs the rubric below to determine whether an outcome has been met:
A thorough examination of the benefits and drawbacks of informal and self-directed learning in both individual and organisational settings. Learners could achieve the criteria by focusing on benefits such as better development and personalisation and dangers such as inadequate alignment between personal and business goals and engagement.
A detailed discussion of steps people can take to encourage informal learning and motivate them to take control of their learning. For example, the curation of materials and the availability of various activities to choose from, the channelling of external and financial assistance, facilitation, and the use of effective ways to overcome the limits of informal learning. To help fulfil business objectives while engaging and gratifying learners, entrants must know how to seamlessly integrate individuals' preferences with organisational needs.
Which Entrance Requirements Apply?
Because there are no specific qualifying requirements for any CIPD course, anyone who can converse, read, and understand English qualifies for the course and, as a result, the L&D basics unit. The training will be most useful to persons interested in or presently hold HR positions and are looking for managerial positions. As a result, the most fundamental course requirement is a strong desire to learn about HR and L&D principles to improve professional abilities and experience.
What we can do
Our services are tailored to meet the specific demands of individual units and clients. For example, because L&D Essentials (5OS03) has six credits, we provide a reinforced learning and support environment that allows all of our clients to maximise the number of credits earned in each course. In addition, our individualised services are centred on a philosophy of building partnerships and collaborations to assist our clients in obtaining high-degree certifications that will enable them to compete in today's highly competitive labour markets. As a result, we're an excellent partner in your job search, expediting the process every step of the way.
Materials
Beevers, K., Hayden, D. and Rea, A. (2019) Learning and development practice in the workplace. 4th ed. London: CIPD Kogan Page.
CIPD. (n.d.) Available at: www.cipd.co.uk/knowledge/journals
Clark, D. (2020) Artificial intelligence for learning: how to use AI to support employee development. London: Kogan Page.
Lancaster, A. (2019) Driving performance through learning: develop employees through effective workplace learning. London: Kogan Page.
Page-Tickell, R. (2018) Learning and development: a practical introduction. 2nd ed. London: Kogan Page.
Parry-Slater, M. (2021) The Learning and development handbook: a learning practitioner's toolkit. London: Kogan Page.
People Management. (n.d.) Available at: www.peoplemanagement.co.uk/
Senge, P. (2006) The fifth discipline: the art and practice of the learning organisation. 2nd ed. London: Random House.
Stewart, J. and Cureton, P. (2014) Designing, delivering and evaluating L&D: essentials for practice. London: CIPD Kogan Page.
Stewart, J. and Rogers, P. (eds) (2017) Studying learning and development: context, practice and measurement. London: CIPD Kogan Page.
Taylor, D.H. (2017) Learning technologies in the workplace: how to successfully implement learning technologies in organisations. London: Kogan Page.
The Association for Talent Development (ATD). (n.d) Available at: www.td.org/
The Chartered Institute of Personnel and Development (CIPD). (n.d) Knowledge Hub. Available at: www.cipd.co.uk/knowledge
Journals
People Management Available at: www.peoplemanagement.co.uk/
TD: Talent Development Available at: www.cipd.co.uk/knowledge/journals
Related Articles:
On-Time Delivery
Plagiarism-Free Assignments
High-Quality Assignments
Pocket-Friendly Services
Free Revisions
24/7 Customer Care Support
GPTZero Report