7OS03 Technology Enhanced Learning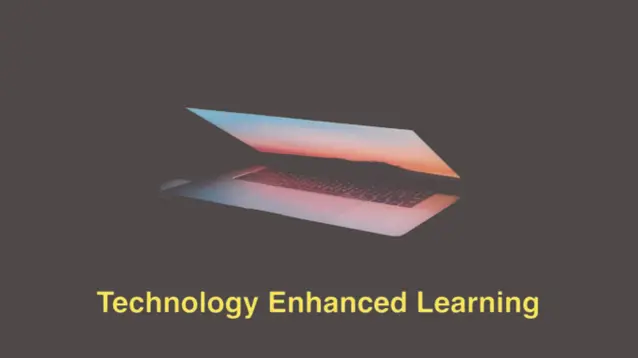 About this Unit
7OS03 Technology Enhanced Learning looks at the role of technology in learning and the use of technology-enabled content and platforms in businesses. It focuses on how the learning and development function can use data and learning analytics, implement technological systems, and the potential barriers to success.
You will study:
You'll look at a variety of technologies used in learning and development and different technological platforms. You'll look at how technology-assisted learning methods are used in designing, developing, measuring, and assessing courses. The impact of learning media will be examined, and how organisations combine technological and non-technological learning approaches. You will also discuss organisational barriers to learning technologies and how to overcome them. Finally, you'll look at learning analytics and the value of data in improving learning effectiveness and the significance of data protection regulations.
Who should take this Unit?
This Unit is required for the following individuals:
Work in an organisation where they are responsible for implementing human resource policies
Have completed the CIPD Foundation Diploma in Human Resource Practice and wish to pursue a career in human resource management
Are you a senior people practitioner looking to expand and deepen your capacity, knowledge, and skills to have a greater impact on strategy, policy, and people?
They are pursuing a professional qualification in human resources (HR) or learning and development (L&D) management to advance their career.
A desire to increase their autonomy, influence, and judgement to strategically lead and drive organisations and their people.
Learning outcomes
After completing this module, learners will be able to meet the following significant learning outcomes, which are further divided into sub-categories. The learner will be able to comprehend the following learning outcomes:
Understand how technology has altered people's learning habits and how this has influenced the design and practice of learning and development (Learning Outcome 1)
Gain an understanding of different technological solutions and how they can be applied to learning and development (Learning Outcome 2).
Find out how businesses employ learning technologies (Learning Outcome 3).
Understand how data can help your company's learning and development efforts be more effective (Learning Outcome 4).
Qualifications and entry requirements
The CIPD does not always regulate the statutory requirements institutions have for their candidates. Some of these requirements vary by institution, while others apply to all students enrolled in the Unit. Institutions have developed these diagnostic tools to determine whether candidates possess the necessary literacy and numeracy skills to complete Designing Learning to Improve Performance (7LD03). Most institutions require candidates to have a working knowledge of the English language to enrol in a course. For example, some institutions require candidates to have a C/4 or higher in English at the GCSE level. Other colleges demand a 6.5 IELTS/ESOL Level 2 equivalent from applicants who speak English as a second language. The CIPD, on the other hand, has a policy for non-native English speakers that outlines appropriate English language entry requirements.
According to most institutions, applicants should have a bachelor's degree, CIPD level 5 certifications, and prior human resources experience. Significant strategic people's experience may be substituted for a degree in extreme circumstances; however, this is subject to evaluation. CIPD recognises previous learning policies that allow learners to demonstrate that they already possess the knowledge, understanding, or abilities required to complete the assessment requirements and do not need to acquire them through a course of study. For learners who have completed units from a previous CIPD certification, the CIPD, for example, has pre-defined transfer opportunities to this Unit as scheduled exemptions. Learners who have completed units from non-CIPD qualifications that they believe will map to units in this qualification may submit an application form to the CIPD for verification and precise mapping and evidence of attainment. Finally, several institutions require students to be at least 18 years old to enrol. Candidates for this Unit should be at least 21 years old, according to the CIPD.
We can help
Writing assignments can take an excessive amount of time. It is our responsibility to relieve you of your academic responsibilities. We provide writing assistance to students who need help with technology-enhanced learning assignments (7OS03). We've created a writing platform based on intellectual capacity with you in mind—a collaborative workspace with brilliant minds to help you avoid study headaches, stress, and all-nighters. We are a group of highly skilled writers, editors, and proofreaders whose main goal is to make exceptional work more accessible by removing the burden of doing the tedious work yourself. Our team of highly qualified experts ensures that our clients receive the highest possible grade for their research and projects. Regardless of the urgency or complexity of the request, we never say no. We have a strict zero-tolerance policy for plagiarism, and each assignment is written from the ground up. We scan each paper for originality using licenced software before submitting it to ensure its uniqueness. Our highly qualified writers can complete any paper, and you can rest assured that it will be thoroughly researched. We examine the amount of time and effort put into the research for the paper to ensure that it is thorough and based on reliable sources.
Furthermore, the document must be thoroughly proofread to adhere to all marking rubrics and reference styles. Many students are concerned about the security of their personal information; however, have no fear; our Privacy Policy ensures that our writing service is completely safe, secure, and private. Our primary goal is to ensure that every customer we collaborate with achieves academic success.
Materials
A variety of publications are available for students interested in pursuing this course. Here are a few examples that are widely used by institutions all over the world.
Clark, D. (2020) Artificial intelligence for learning: how to use AI to support employee development. London: Kogan Page.
Dabbagh, N., Marra, R. M., & Howland, J. L. (2018). Meaningful online learning: Integrating strategies, activities, and learning technologies for effective designs. Routledge.
Houghton, E. and Green, M. (2018) People analytics: driving business performance with people data. Report. London: Chartered Institute of Personnel and Development. Available at: www.cipd.co.uk/knowledge/strategy/analyti cs/people-data-driving-performance/
Howes, C. D. (2018). Creative Collaboration in Higher Education: A Guide for Distance Learning Technologies. Morehead State University.
Marr, B. (2018) Data-driven HR: how to use analytics and metrics to drive Performance. London: Kogan Page.
Mattox, J.R., Parskey, P. and Hall, C. (2020) Learning analytics: using talent data to improve business outcomes. 2nd ed. London: Kogan Page
Rose, M. (2018). Management: Alternatives, Consequences and Contexts, London: CIPD. Rose, M.(2018) Reward Management: A Practical Introduction, 2nd edn, London: Kogan Page. Human Resource Management, 162.
Walford-Wright, G., & Scott-Jackson, W. (2018). Talent Rising; people analytics and technology driving talent acquisition strategy. Strategic HR Review.
Wheeler, S. (2019) Digital learning in organisations: help your workforce capitalise on technology. London: Kogan Page. Online resources
Whysall, Z. (2020). Avoiding unintended consequences of diversity initiatives: the importance of dimensionality.
Related Articles:
On-Time Delivery
Plagiarism-Free Assignments
High-Quality Assignments
Pocket-Friendly Services
Free Revisions
24/7 Customer Care Support
GPTZero Report