8605 – 404 Delegating Authority in the Workplace
September 23, 2023

Posted by:

admin

Category:

ILM Level 4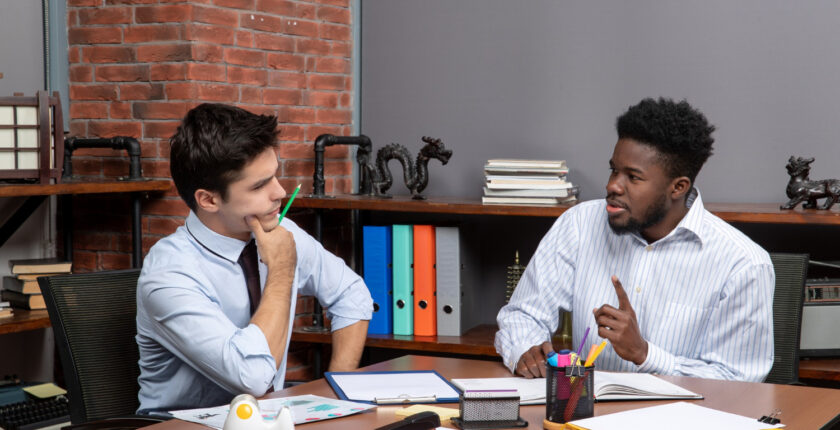 ILM 8605 – 404 Delegating Authority in the Workplace is a comprehensive course designed to equip individuals with the essential skills and knowledge required to excel in the realm of leadership and management. Delegating authority is a critical aspect of effective leadership, and this course is specifically tailored to empower professionals with the expertise to navigate this complex terrain. In today's dynamic and fast-paced work environments, the ability to delegate effectively is a key driver of organizational success. This course delves deep into the principles, strategies, and best practices of delegation, providing participants with the tools they need to distribute tasks, responsibilities, and decision-making authority while maintaining accountability and fostering a culture of trust and productivity within their teams. As we embark on this journey into the art of delegating authority, we will explore various facets of leadership, communication, and delegation styles, ultimately aiming to enhance your leadership skills and propel your career to new heights. Join us in uncovering the transformative power of effective delegation and discover how it can propel both you and your organization towards greater success.
Unit purpose and aim(s)
The primary objective of ILM 8605 – 404 is to provide candidates with a comprehensive set of skills and knowledge essential for the proficient delegation of work and the empowerment of individuals within the workplace. This program is designed to equip participants with the tools and insights required to navigate the complexities of task allocation, fostering a leadership approach that not only optimizes organizational efficiency but also cultivates an environment where team members feel empowered to contribute effectively. By focusing on the intricacies of delegation and empowerment, ILM 8605 – 404 aims to empower candidates to navigate dynamic workplace challenges and facilitate a culture of collaboration, productivity, and professional growth.
Learning outcomes
Upon successfully concluding the ILM 8605 – 404 course, participants will realize the following learning outcomes:
Comprehensive Understanding of Delegation Benefits:
Candidates will possess a thorough comprehension of the advantages associated with delegation. They will recognize and be able to articulate how delegation enhances productivity, fosters teamwork, and contributes to organizational success.
Assessment criteria 
Evaluating the Benefits of Effective Delegation:
Effective delegation within an organizational framework yields multifaceted advantages that significantly contribute to operational success and team development. Firstly, one of the primary benefits lies in the optimal utilization of resources. By delegating tasks according to individual strengths and expertise, organizations can tap into a diverse range of skills within the team, leading to increased efficiency and better outcomes.
Secondly, effective delegation fosters a culture of empowerment and professional growth. When responsibilities are strategically assigned, team members are provided with opportunities to enhance their skill sets and broaden their experience. This, in turn, contributes to higher job satisfaction, increased motivation, and a sense of ownership, as individuals recognize the trust placed in them to accomplish significant tasks.
Furthermore, delegation facilitates effective time management for leaders. By entrusting certain responsibilities to capable team members, leaders can focus on high-priority tasks that require their specific expertise, contributing to overall productivity and goal attainment.
The process of effective delegation also nurtures a collaborative and communicative environment. Regular interactions between leaders and team members, involving feedback and guidance, become integral components of successful delegation. This not only ensures that tasks are on track but also enhances the professional relationship between leaders and their teams.
In summary, the benefits of effective delegation extend beyond task completion. They encompass resource optimization, employee empowerment, enhanced time management, and the cultivation of a collaborative workplace culture.
Explaining How Delegation Can Be Used to Empower Others:
Delegation, when approached strategically, serves as a powerful tool for empowering individuals within an organizational context. The empowerment process begins with the recognition of individual strengths, skills, and potential contributions. By aligning tasks with each team member's capabilities, leaders provide a platform for them to showcase their expertise, fostering a sense of confidence and empowerment.
Moreover, delegation offers a structured pathway for skill development. As team members take on delegated responsibilities, they encounter new challenges and opportunities to refine their abilities. This experiential learning not only broadens their skill set but also instills a sense of accomplishment, contributing to increased self-efficacy and empowerment.
Effective delegation is inherently linked to clear communication and transparency. When leaders communicate expectations, provide necessary information, and offer guidance, they create an environment where individuals feel supported and capable. This open communication channels a sense of empowerment as team members understand the significance of their role in achieving organizational goals.
Ultimately, empowerment through delegation is a reciprocal process. Leaders empower team members by entrusting them with responsibilities, and in return, empowered and motivated individuals contribute positively to the overall success of the organization. This reciprocal empowerment forms the foundation for a dynamic and thriving workplace culture.
2. Proficiency in Workplace Delegation:
Candidates will acquire the skills necessary to delegate effectively within a workplace setting. They will demonstrate the ability to select suitable tasks for delegation, identify appropriate team members, communicate expectations clearly, and oversee delegated responsibilities. Their capacity to ensure accountability and achieve desired outcomes through delegation will be evident.
Assessment criteria 
Justifying an Appropriate Process for Delegating Work within Your Area of Responsibility:
Delegating work within one's area of responsibility is a strategic process that demands careful consideration to ensure effectiveness and optimal outcomes. The justification for adopting a systematic approach lies in its potential to streamline tasks, enhance efficiency, and foster a collaborative work environment.
Firstly, a well-defined process for delegation involves a thorough assessment of the tasks at hand. By identifying the complexity, urgency, and individual skill sets required for each task, a manager can make informed decisions about which responsibilities are best suited for delegation. This initial step ensures that the right tasks are assigned to the right individuals, maximizing the likelihood of successful outcomes.
Next, clear communication becomes pivotal. Transparently articulating the goals, expectations, and parameters of the delegated tasks sets the foundation for success. This communication extends beyond task descriptions to encompass available resources, potential challenges, and avenues for support. A comprehensive briefing not only minimizes ambiguity but also empowers those undertaking the delegated responsibilities.
Furthermore, a justifiable delegation process incorporates ongoing monitoring and feedback mechanisms. Regular check-ins provide an opportunity to assess progress, offer guidance, and address any challenges promptly. This iterative feedback loop ensures that the delegated tasks align with evolving organizational priorities and that individuals receive the necessary support to succeed.
In summary, adopting a systematic process for delegation is justified by its ability to enhance task allocation precision, promote transparent communication, and facilitate ongoing monitoring and support, ultimately contributing to improved overall efficiency within a manager's area of responsibility.
Allocating and Monitoring Delegated Work within Your Area of Responsibility:
Allocating and monitoring delegated work within a manager's area of responsibility is a dynamic and iterative process crucial for achieving organizational objectives and maintaining a high standard of performance.
To begin with, allocation involves a judicious match of tasks with the skills, expertise, and developmental needs of team members. This deliberate assignment ensures that each individual is positioned for success and growth, aligning their capabilities with the demands of the tasks at hand.
Simultaneously, allocation necessitates clear communication of expectations. Providing a well-defined scope, deadlines, and any pertinent information establishes a framework for success. Additionally, outlining available resources and avenues for support ensures that individuals feel equipped to navigate challenges and fulfill their delegated responsibilities effectively.
The monitoring phase is equally critical. Regular and structured check-ins enable managers to gauge progress, identify potential roadblocks, and offer guidance as needed. This ongoing engagement not only ensures task alignment with organizational goals but also promotes a culture of accountability and collaboration within the team.
Moreover, the monitoring process involves the provision of constructive feedback. Recognizing achievements and addressing areas for improvement fosters a continuous improvement mindset among team members, contributing to their professional development and the overall success of the delegated tasks.
In essence, the allocation and monitoring of delegated work within a manager's area of responsibility are integral components of effective leadership. Through thoughtful task assignment, transparent communication, and proactive oversight, managers can cultivate a high-performing team and contribute to the achievement of organizational goals.
3. Continuous Improvement in Delegation and Empowerment Skills:
Candidates will exhibit ongoing growth in their ability to delegate and empower others. They will showcase their capacity to reflect on past delegation experiences, make informed refinements, and adapt their delegation approaches to diverse workplace scenarios. Additionally, candidates will demonstrate how they empower team members by providing opportunities for skill development, decision-making, and increased responsibility.
Assessment criteria 
Thoroughly Reviewing the Delegation Process:
Conducting a comprehensive review of the delegation process is instrumental in gauging its effectiveness, ensuring continuous improvement, and fostering a culture of learning within a leadership role. The review is twofold, relying on the outcomes of the delegated task and solicited feedback from involved parties.
Firstly, evaluating the outcomes entails a meticulous examination of whether the delegated task was completed successfully, aligning with established objectives and organizational standards. Analyzing the quality, efficiency, and timeliness of the results provides insights into the effectiveness of the delegation process. Positive outcomes affirm the appropriateness of task allocation and execution, while any discrepancies offer valuable lessons for refinement.
Secondly, seeking feedback from those involved in the delegated task is equally crucial. This involves actively engaging with team members to gather their perspectives on the delegation process. Insights into their experiences, challenges faced, and suggestions for improvement provide a holistic understanding of the delegation dynamics. Constructive feedback serves as a valuable resource for identifying strengths, addressing weaknesses, and refining the overall approach to delegation.
Assessing Personal Growth in Delegating and Empowering:
Simultaneously, assessing personal growth in the realm of delegation involves introspective evaluation and a commitment to continuous improvement. This self-assessment is vital for honing the ability to delegate effectively and empower others within a leadership context.
Reflecting on the delegation process, it is essential to consider personal strengths and areas for development. Identifying instances where delegation was successful aids in recognizing effective strategies and reinforces positive leadership practices. Conversely, acknowledging areas of improvement fosters a proactive mindset, paving the way for targeted skill enhancement.
Additionally, assessing personal growth extends to examining communication and empowerment strategies. Evaluating the clarity of communication during the delegation process, understanding its impact on task execution, and identifying opportunities for enhancement contribute to improved delegation capabilities. Furthermore, assessing the empowerment aspect involves gauging the extent to which team members felt supported, motivated, and equipped to excel in their delegated roles.
In conclusion, the dual process of reviewing the delegation outcomes and assessing personal growth ensures a comprehensive understanding of the delegation dynamics. This, in turn, forms the foundation for ongoing improvement, skill refinement, and the cultivation of a leadership approach that effectively delegates tasks and empowers others for collective success.
These learning outcomes will be assessed through a combination of written assessments, practical exercises, and reflective assignments to gauge candidates' understanding and practical application of delegation concepts in real-world workplace contexts.
Related Articles:
On-Time Delivery
Plagiarism-Free Assignments
High-Quality Assignments
Pocket-Friendly Services
Free Revisions
24/7 Customer Care Support
GPTZero Report