8316-609 Leading Project Implementation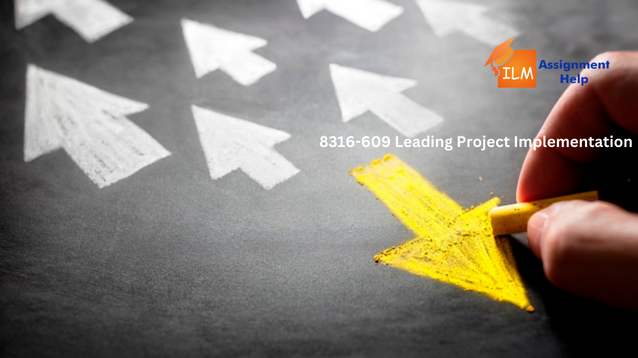 The goal of 8316-609 Leading Project Implementation is to teach students how to critically analyse and evaluate projects in terms of risk, outcomes, and budget. Students should be able to demonstrate that they have reviewed the most important findings and theoretical works in the field after completing the unit. Include a correct citation in their paper. Furthermore, the project should demonstrate a convincing integration of theory and practice.
Learning Objectives
This unit allows students to focus on three interrelated aspects of complex project management: planning, leading, and execution. Students can expect to learn about "the nature and purpose of projects," "project planning and management techniques like PERT, Gnatt charts, and CPA," and "project financing and procurement." Students will also investigate the effects of project constraints (such as time, money, and personnel) on project management. Students will gain an understanding of project management challenges and their impact on productivity. Furthermore, students will investigate the feasibility and risk assessment approaches, as well as master budget management, variance analysis, and reporting skills, providing learners with a comprehensive understanding of budgetary assessment in project management. This lesson will help students learn more about identifying and communicating with stakeholders, monitoring and reporting on project progress, and meeting milestones and goals. Finally, the students will dive into project evaluation and reporting, as well as how to use project evaluation to reflect on personal performance and skills. As a result, students will comprehend why an intervention is required, how it can be effectively implemented, and how long its effects will last. They will also be able to address causation concerns and provide evidence for why specific outcomes and goals are or are not being met.
The unit is suitable for people who are
This unit is designed for newly promoted senior managers as well as middle managers who want to advance their careers. It is also appropriate for students pursuing senior management positions who want to improve their critical thinking and self-reflection skills. Earners who want to progress from Level 5 to Level 7 can do so with the help of this stepping stone because credits can be transferred. Students can transfer 12 credits for the ILM Level 7 Certificate or Diploma in Executive Management, for example, and 6 credits for the ILM Level 7 Certificate or Diploma in Strategic Leadership. It's ideal for anyone looking to gain insight into what it takes to be in senior management, as well as those looking to assess their performance. This is useful for companies that want to prepare their top executives for future roles and give aspiring top-level managers a means of self-evaluation in addition to helping employees.
Outcomes of learning
This unit's learning outcomes include making recommendations to improve resource capacity and utilisation in one's area of responsibility. This learning outcome is divided into three evaluation criteria. The first step is to plan a complex project, which is broken down into four assessment criteria: determine the feasibility and risks associated with a proposed project, agree on the project's goals and success criteria, plan the project and identify the financial and other resources needed, using a standard method and appropriate project management tools, and select an appropriate project team. The second outcome, which is divided into four assessment criteria, is to successfully lead a complex project. To achieve this outcome, the learner will: lead the project team to achieve project milestones and goals, monitor progress and take action to rectify problems or recover from failure, manage the project budget, identify any variances and take appropriate action, and ensure full stakeholder engagement in the project. The third and final learning outcome is evaluating a complicated project. To achieve this outcome, the learner will complete two assessment criteria: developing and implementing an appropriate project evaluation tool, reporting on project outcomes to stakeholders, and reflecting on and learning from project outcomes.
What are the requirements for entry?
This unit is a prerequisite for level 6 certification, which comes in three levels: an introductory Award, an intermediate Certificate, and an advanced Diploma. This credential is divided into smaller pieces known as "units," and each unit is designed to impart a specific body of knowledge or expertise. As they progress through the six levels of ILM, students gain knowledge and competence. Before being accepted to level 6, the student should have accumulated a significant number of credits from a variety of level 5 certifications. To be eligible for an award, a candidate must, for example, complete 6 of the 12 required credits and participate in at least 1 hour of orientation and 3 hours of tutorial support. To receive a certificate, a minimum of 13 credits, including an introductory session and tutorials totalling at least 3 contact hours, must be completed. Students must earn 37 credits, attend a two-hour orientation, and complete seven hours of tutoring as a final step toward graduation. Level 5 credits can be carried over to Level 6. However, these eligibility requirements are governed by legal frameworks. They roughly correspond to different levels of management. They also serve to highlight the difficulty of the certification process. As a result, while the majority of ILM credentials are vocational and the levels correspond to specific educational instruction, if you want to advance in your academic career, you may need to skip a level or start at a lower level than you are currently at. Even though a bachelor's degree in economics is equivalent to the third year of an undergraduate degree, having no experience managing a project or leading a team necessitates a lower-level vocational certificate.
Here's how we can help
Studying for an ILM degree can be difficult and time-consuming, limiting your ability to participate in other academic and social activities. If you require assistance with an ILM project, you can rely on us to connect you with skilled expert writers who are familiar with the subject matter. They will make certain that you understand everything necessary to achieve the grades you desire. Our main goal is to provide students with resources that will help them achieve their academic and professional goals. Our experts go above and beyond to conduct in-depth research for your Leading Project implementation assignments, ensuring that you receive the grades you deserve. If you use our service, you can be confident that you will not fail, saving you a significant amount of money on retakes. Furthermore, we ensure that every task is completed on time. We can guarantee that you will complete the paper before any penalties are imposed, regardless of the deadline. Furthermore, you can rest assured that the quality of your project will not suffer if we are given a request at the eleventh hour. We have a strict anti-plagiarism policy, so we guarantee to deliver original content that is 100% unique to each of our customers. Before delivering any work to you, we ensure that our ILM assignment-help experts run it through a variety of plagiarism detection software to ensure that it is original. We exist to assist our clients in their academic development. As a result, we only hire people who have extensive prior experience working within the ILM curriculum; as a result, you will have the peace of mind that your research will be meticulously documented. Whatever level of the ILM you are working on, our writers will use their extensive expertise as well as their thorough knowledge of the subject area to satisfy the test's requirements and standards. We understand that students frequently have limited financial resources. As a result, we strive to provide pricing plans that are as adaptable as possible to fit a wide range of budgets. We keep our prices for assisting with ILM assignments as low as possible because we want students from all socioeconomic backgrounds to be able to use our services. If you are dissatisfied with the final product, the ILM assignment help writers will revise it at no additional cost to you. In addition, we offer editing and proofreading services, and we are happy to evaluate your work and make any necessary changes. If you have any questions, please do not hesitate to contact us by phone or email. Our customer service team is available at all hours of the day and night to answer any questions you may have about your assignments. We are excited to be of service to you.
Reference
Kerzner, H. (2018). Project management best practices: Achieving global excellence. John Wiley & Sons.
Khomyakov, I., Mirgalimova, R., & Sillitti, A. (2020, March). An investigation of the project management approaches of agile and plan-based companies. In Proceedings of the 35th Annual ACM Symposium on Applied Computing(pp. 1662-1665).
Miller, D. (2019). The resource-based view of the firm. In Oxford Research Encyclopedia of Business and Management.
Müller, R., Drouin, N., & Sankaran, S. (2019). Modeling organizational project management. Project Management Journal, 50(4), 499-513.
Pace, M. (2019). A correlational study on project management methodology and project success. Journal of Engineering, Project, and Production Management, 9(2), 56.
Rowe, S. F. (2020). Project management for small projects. Berrett-Koehler Publishers.
San Cristóbal, J. R., Carral, L., Diaz, E., Fraguela, J. A., & Iglesias, G. (2018). Complexity and project management: A general overview. Complexity, 2018.
Tereso, A., Ribeiro, P., Fernandes, G., Loureiro, I., & Ferreira, M. (2019). Project management practices in private organizations. Project Management Journal, 50(1), 6-22..
On-Time Delivery
Plagiarism-Free Assignments
High-Quality Assignments
Pocket-Friendly Services
Free Revisions
24/7 Customer Care Support
GPTZero Report