8316 – 700 Team Working in Organisational Partnerships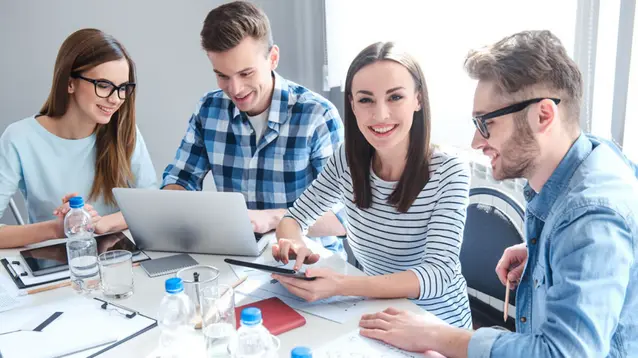 Despite being optional, 8316 – 700 Team Working in Organisational Partnerships  is an important step toward meeting the requirements for a degree from the Institute of Leadership and Management (ILM). This unit's goal and purpose are to teach learners how to work effectively as part of a team and in collaboration with other organisations. This unit is designed to help students understand the role and function of the Board of Directors/Trustees/Governors, as well as other stakeholders in team and partnership work. The unit also focuses on assisting learners in comprehending the role, nature, and purpose of teams, as well as the various types of teams, particularly strategic teams and diverse teams.
Learning Objectives
This course is intended to give aspiring and current upper-level managers a solid foundation in the specifics of working effectively as part of a team and in collaboration with other organisations. The course also examines the nature and status of organisational partnerships, as well as the legal and ethical implications of working in collaborations, particularly those that combine the private, public, and/or voluntary sectors. It investigates recent drivers of partnerships and mergers in the private, public, and/or voluntary sectors, as well as delves deeper into partnership definitional debates. It also considers the various types of partnership work, partnership governance and accountability, as well as partnership outcomes and evaluation. As a learner, you will also gain an understanding of the concepts of diversity, as well as the social and cultural characteristics of majority and minority groups, as well as diversity as a social and cultural construct and its ramifications. Learners will then be able to use various negotiation methods and skills depending on the situation, as well as establish operational procedures for organisational partnerships in ways that are difficult to replace or imitate, providing their organisation with a long-term competitive advantage. Finally, this unit will assist learners in understanding the relationship between the nature and status of organisational partnerships, as well as the legal and ethical implications of working in partnerships, particularly those involving the private, public, and/or voluntary sectors. As a result, learners will be able to recognise the role, nature, and purpose of teams that can benefit the organisation while also improving its achievement, objectives, and goals.
The unit is suitable for those who:
This unit is designed for newly promoted senior managers as well as middle managers who want to advance their careers. It is also appropriate for learners aspiring to senior management positions who want to improve their critical thinking and self-reflection skills. It is beneficial for learners who want to advance from Level 5 to Level 7 to use this stepping stone because credits can be transferred. Learners can transfer 12 credits for the ILM Level 7 Certificate or Diploma in Executive Management, for example, and 6 credits for the ILM Level 7 Certificate or Diploma in Strategic Leadership. It's ideal for anyone looking to gain insight into what it takes to be in senior management, as well as those looking to assess their performance. This is useful for companies that want to prepare their top executives for future roles and give aspiring top-level managers a means of self-evaluation in addition to helping employees.
Outcomes of learning
Learners will be able to meet two major learning outcomes after completing this unit, as shown below. These outcomes are further subdivided into several categories. They will be able to do the following as a result of the learning outcomes:
Review the key success factors and organisational experiences of teamwork and organisational partnerships
Create effective teamwork and organisational partnerships.
What are the Entry Requirements?
This unit is a prerequisite for level 6 certification, which comes in three levels: an introductory Award, an intermediate Certificate, and an advanced Diploma. This credential is divided into smaller pieces known as "units," and each unit is designed to impart a specific body of knowledge or expertise. Learners gain knowledge and competence as they progress through the six levels of ILM. Before being accepted to level 6, the learner should have accumulated a significant number of credits from various types of level 5 certifications. To be eligible for an award, a candidate must, for example, complete 6 of the 12 required credits and participate in at least 1 hour of orientation and 3 hours of tutorial support. To receive a certificate, a minimum of 13 credits, including an introductory session and tutorials totalling at least 3 contact hours, must be completed. As a final requirement for graduation, students must earn 37 credits, attend a two-hour orientation, and complete seven hours of tutoring. Level 5 credits can be carried over to Level 6. However, these eligibility requirements are governed by legal frameworks. They roughly correspond to different levels of management. They also serve to highlight the difficulty of the certification process. As a result, while the majority of ILM credentials are vocational and the levels correspond to specific educational instruction, if you want to advance in your academic career, you may need to skip a level or start at a lower level than you are currently at. Even though a bachelor's degree in economics is equivalent to the third year of an undergraduate degree, having no experience managing a project or leading a team necessitates a lower-level vocational certificate.
Here's how we can help
ILM coursework can be time-consuming and demanding, interfering with your social life as well as other academic pursuits. If you require assistance with an ILM project, you can rely on us to connect you with competent expert writers who are well-versed in the subject matter. If this occurs, you can count on us to help. They will make certain that you understand everything necessary to obtain the grades you desire. We'll handle the work so you can concentrate on other things. The primary goal of our website is to provide individuals with a useful resource that can help them achieve their academic and professional goals. Our experts go above and beyond to conduct in-depth research for your leadership and management assignments, ensuring that you receive the grades you deserve. Furthermore, we provide the necessary study materials for you to comprehend ILM's fundamental concepts through our ILM assignment help. Occasionally, the task at hand may appear to be too difficult for you to complete. This indicates that you are still not completely familiar with some aspects of ILM. Do not be concerned about your grades because we are here to help you. You can entrust us with any ILM project, knowing that it will be completed by experts with years of experience and a thorough understanding of every concept. Furthermore, we guarantee that our service will save you hundreds of dollars in retakes because we guarantee you will not fail.
We have writers who are familiar with the ILM curriculum and can complete your assignments so that you pass the course the first time. Furthermore, we ensure that the entire project is completed on time. In addition, we tailor each learner's schedule to their specific needs. No penalties will be imposed for late delivery, regardless of how close the deadline is. And rest assured that even if we receive a last-minute request, the quality of your work will not suffer. Furthermore, we have a strict anti-plagiarism policy and always strive to provide our clients with 100 per cent original content. We guarantee that before releasing any assignments, our ILM assignment help experts run them through a variety of plagiarism detection technologies. We would never stand by and watch our customers get into trouble with the school for submitting plagiarised work. Our primary goal is to provide a channel that aids in the academic advancement of students. As a result, you can be confident that your research will be meticulously documented, as we only hire individuals with extensive ILM curriculum experience. Our experts will draw on their extensive experience and in-depth knowledge of the subject to create a piece of work that more than meets the criteria and requirements of any ILM examination, no matter how difficult. This will be useful when attempting to create truly unique work. Learners frequently have limited financial resources for obvious reasons. As a result, we offer a variety of payment options to accommodate a wide range of budgets. We have kept our ILM assignment help fees as low as possible because we want our services to be accessible to students of all financial backgrounds. If our valued client is dissatisfied with the final product, our ILM assignment help experts will revise it for free. We also offer proofreading and editing services and would be happy to double-check your assignments. Please contact us by phone or email if you have any questions. Our support staff is available 24 hours a day, 7 days a week to assist you with your management and leadership homework. We are here to assist you.
Reference
Danso, R. (2018). Cultural competence and cultural humility: A critical reflection on key cultural diversity concepts. Journal of Social Work, 18(4), 410-430.
Groot, B., & Abma, T. (2019). Partnership, collaboration and power. Ethics in participatory research for health and social wellbeing. Cases and Commentaries. Oxon: Routledge.
Hurley, E., Mortimer, M., Abrams, J., & Robertson, D. (2020). The Power Game: Developing Influence and Negotiation Skills for Sustainable Development. Journal of Sustainability Education, 24.
Khaola, P., & Coldwell, D. (2018). Explaining how leadership and justice influence employee innovative behaviours. European Journal of Innovation Management.
Mayer, C. H., & Mayer, L. J. (2020). On being "outside the box" or being "inside": Intercultural communication, relationship-building and identity ascription failures. In Mistakes, Errors and Failures across Cultures (pp. 163-181). Springer, Cham.
Nurmala, N., de Vries, J., & de Leeuw, S. (2018). Cross-sector humanitarian–business partnerships in managing humanitarian logistics: an empirical verification. International Journal of Production Research, 56(21), 6842-6858.
On-Time Delivery
Plagiarism-Free Assignments
High-Quality Assignments
Pocket-Friendly Services
Free Revisions
24/7 Customer Care Support
GPTZero Report